Car dispatching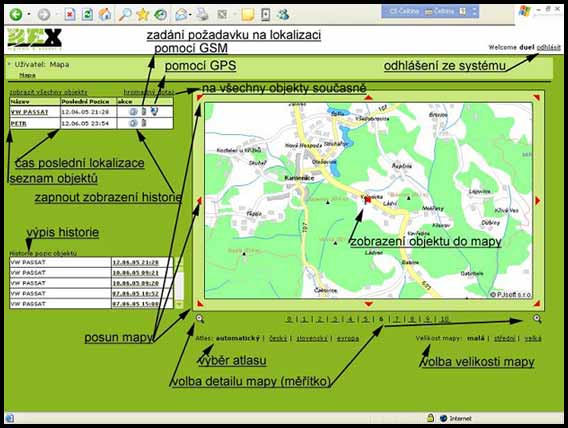 The dispatch service is worth for those who want to check the location of vehicles constantly, or have permanent overwiev about the appearance of cars.
Vehicle unit will send periodically its position for example after one minute on the server, where you see your cars on maps. The dispatcher will know every time the actual position of all vehicles.
The service is normally provided only in the CR. In the case of traveling abroad and the need for continuous overview, please contact us. We will propose a solution.
BASIC dispatching unit

With this localization unit you can monitor the movement of the vehicle shown on the map anywhere in the world from any Internet-connected computer with accuracy of several meters.
Locator box is built with backup battery (3.7 V/730mAh) and equipped with GSM SIM card.
Power 12V-24V.
Locator determines its position and velocity via an external receiving antenna, and sends the data "on the Internet" several times per minute.
You get an unique username and password for secure access to the Internet. All these data are accessible only to you.
After logging into the server, see the vehicle live in the map or town plan showing its position, speed and route or see the history (one year).
Parameters: GSM 900/1800MHz, integrated GPS receiver, external GPS antenna-active
Service Dispatching
Sending-regular positions of each vehicle, every 1 minute or longer. Instant vehicle location is then available on the web interface. The price includes GPRS transmissions up to five megabytes in the country. It is possible to see movement of the vehicle on the map. The possibility of implementing the customer's own maps. No need of manual position inquiry.
Dispatching Monthly service fee (incl. VAT): 131, – CZK