Unique protection against vehicle theft – The AUTODOT OCIS system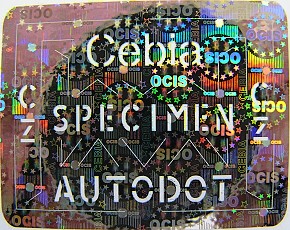 Significantly increases protection against vehicle theft.
Substantially reduces the interest of thieves to vehicles equipped with AUTODOT OCIS.
Significantly increases the chance of retrieval, identify and return stolen vehicles .
Reduces easy falsification of identity of stolen vehicles, and thus hinders their illegal entry into service in the CR.
Avoid subsequent sale of stolen vehicles.
Presents the vehicle protection affordable for all motorists.
Enabels easy identification of important car components. Prevents implementation unrequested exchange of parts on vehicles – for example in the garage.
Increased protection against the vehicle theft presents the installation of non-substitutable and non-transferrable identifying elements of the AUTODOT OCIS system, which together with the vehicle identification number VIN forms a permanent bond.
Basic principles of the OCIS AUTODOT system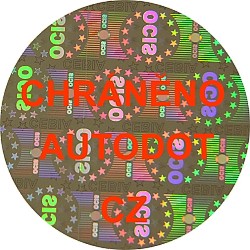 OCIS AUTODOT system consists in emplacement of technologically unique additional identifiers – AUTODOT sets – on the body parts.
An integral part of the AUTODOT OCIS system is preventive registration of vehicle details and its owner in the International Information OCIS System (Open Car Information System).
The AUTODOT OCIS system provides other services, through the nonstop "aftertheft" HelpDesk OCIS Center (dispatcher) focused on search and the return of stolen vehicles within the CR and Europe. Each client can use a free aftertheft services, which are an integral part of the registration to the international OCIS system.
AUTODOT OCIS system Technology – Kit AUTODOT
Technology AUTODOT OCIS system is delivered in the kit (to mark one vehicle) as the world's unique combination of metallic holographic labels OV METAL ™ (special metal holograms with code) and intelligent metal dust – microdots OV DOT ™.
Each set AUTODOT OCIS system includes:
Metal holographic labels OV METAL™ – 6pcs

Holographic labels include perforated alphanumeric code (identical for all labels) and the international designation of the state, "CZ" (e. g. CZ AAD1246) = holographic label code.
Metal holographic label is not removable without destruction and can not be reused. 5 pieces of holographic labels for vehicle marking and 1 to mark authenticity of the document (certificate of the International Information System OCIS system registration).

aerosol paint 30 ml – 1 piece, containing about 20 000 OVDot™
Special paint with metal personified (intelligent) dust, with dust pieces about 0.4 mm. Application can be verified by the reader.
Each microdot contains an alphanumeric code, including the identification of the state, and has a defined shape (e. g. CZ 156AKK ) = microdots code.
One pack of paint is always used all on one car.
Warning label on windscreen – 1 pc

Each vehicle is equipped with self-adhesive warning label on side window.

Plastic identification card OCIS system – 1 pc

The card is issued to the vehicle owner as proof of AUTODOT installation and online registration by the OCIS system.
At our Authorized workplace are
OV METAL ™ – holographic labels with variable holographic optical elements, with unique code affixed to the vehicle to a pre-defined (visible and hidden) place, this is the highest level of protection against counterfeiting.
OV Dot ™ – microdots with optically variable holographic protecting element with a unique code, aplyed with spray on the vehicle to a specified location.
Unique codes for each vehicle on holographic labels and on microdots, always in relation with vehicle's VIN number, registered in the International Information OCIS System.
Advantages of OCIS AUTODOT system

discouragement the offender from the vehicle theft
restraint the entire change of vehicle's identity
the data availability for subsequent identification the vehicle
legally provable identification
finding the original owner of a stolen vehicle
increased marketability of older vehicle
reduced insurance costs at selected asurers
Recommendation
We recomand in terms of further protection enhancing to complete the AUTODOT system with windscreen coding .
OCIS AUTODOT system can be recommended for both new and used vehicles and for vehicles of all categories.
AUTODOT OCIS system is approved by MDCR (Department of transport CR) under No. 0805 8SD.
Price 1 680, – CZK including installation and VAT
We offer quantity discounts.