Gear shift and bonnet lock
CONSTRUCT 3 SYSTEM
CONSTRUCT 3 SYSTEM is a product of the third generation, it blocks the transmission activity and the bonnet lock.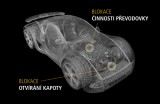 Revolutionary CONSTRUCT 3 SYSTEM features a patented lock technology, which uses original technical solutions. Blocking backstop disables the removal of the vehicle's reverse movement and it runs in to the bonnet lock's loop at the same time and disables its opening. Today, the number of thefts of the equipment under the bonnet increases, especially expensive xenon lights, which the security system can prevent.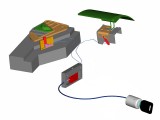 The goal of developing a new security system is to offer CONSTRUCT 3 SYSTEM for most passenger cars. Other major advantage is easy use. For locking and unlocking you will need just one turn of the key. In the future the Construct company plans to develop the electronic locking.
The system is resistant not only against drilling, but also breaking and picking. CONSTRUCT 3 SYSTEM is resistant to thermal and chemical effects, its effectiveness isn't dependent on the condition of the car battery or other vehicle functions. The materials are such durable, that they aren't more fragile and soft even after severe hypothermia with liquid nitrogen.
All system controls are positioned so that do not disturb the look of the interior and do not detract from the functionality of other elements of the vehicle. Any potential thief quickly learns, that the system locks automaticly in the locked state and it is a major goal of prevention to repulse the offender.
The list of vehicles that can be locked by the device CONSTRUCT 3 SYSTEM: Audi, Kia, Opel, Skoda, Toyota, Volkswagen.
Due to the product's high quality, the producer (Construct) offers 5 year guarantee.
CONSTRUCT 3 SYSTEM Special Offer – Price 10.500, – CZK including installation and VAT