Steering wheel lock – Block Shaft
Block Shaft exclusively in Auto TOPRA – Assembly center in Prague, Ostrava, Brno, Plzen.
This is a steering wheel locking system. BLOCK SHAFT is firmly built into the steering column. It consists of high quality steel metal clamps welded to the steering column. The lock slides in the sleeve till he goes in the hole excavated in the shaft of the steereng column. Thus it prevents the steering wheel and the wheels of the vehicle to rotate freely in the locked condition. Block Shaft device can also lock the position of twisted wheels right or left. This prevents the vehicle running on the towing vehicle. At the same time it is impossible to trek this vehicle with locked steering. Prevents airbag theft – in a locked steering wheel airbag removal is unavailable, the control is placed under the wheel and is accessible only by free rotating steering wheel.

 The main advantages of BLOCK SHAFT: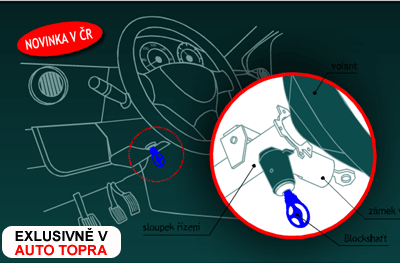 can not move the steering wheel
prevents the towing of the vehicle
prevents airbag theft
locking and unlocking the key turning
does not affect the vehicle's interior
resistance to drilling, clinches, cutting and using cold liquid nitrogen
safety in use
guarantee of 10 years
quality confirmed by certificates valid in EU
More about the product on site representation: www.blockshaft.cz
System Block Shaft Prices
Block Shaft from 8.990,– Kč, including installation – price contains VAT 20%
The lock delivery time can be up to 14 days depending on the type of vehicle. Please contact us so in advance.
For partners
Are you interested in assembling Block Shaft sysetem? Become an Authorized Partner? Contact us at our headquarters in Prague 7, U Papírny 2.
Block Shaft video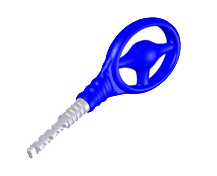 Certificate Block Shaft for Auto TOPRA

Block Shaft + GPS car tracking security = quiet sleep