ONI Surveillance – GSM + GPS + VF radio transmitter + accelerometer
In your vehicle is professionally installed a hidden communication device ONI Surveillance. These units are equipped with a triaxial acceleration sensor to detect unauthorized movement and tilt (so called active guarding system), identification kit, battery backup to cover power outages, GPS receiver for precise positioning of objects, GSM/GPRS modem to send events to the control room of the house and VF radio transmitter for sending alarm messages in case of abandoning GSM transmission paths. This greatly increases the resistance of the entire system to skilled criminals.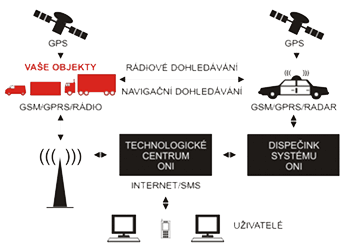 The Surveillance Vehicle Service detects following events:
Vehicle removal – system responds to a larger angle, which occurs during a raid to towing platform. Also captures the changes in acceleration when trying to tow away a vehicle by tow rope.
An accident at parking place – The system evaluates arising shocks and allows to capture collision with another vehicle at parking place, eventually it captures an intrusian attempt into the vehicle.
Accident – The system responds at an accident both the vehicle is running, and during parking. The system recognizes the seriousness of an accident with an accelerometer and can automatically call the appropriate support.
Wheels theft – The system detects the tilt of the vehicle during removing wheels.
Advantages of the solution for the customer
24/7 Surveillance of your vehicle at ONI dispatching center
Active Surveillance system, which means the system identifies an attack autonomously
49 security agencies ready to intervene and to trace your car
150 emergency vehicles at whole territory of the CR
Dual transfer path = resistance to interruption
Radio tracing of stolen vehicles
Vehicles surveillance even abroad
Significant discounts at insurance
Free on-line monitoring of vehicles and journey book software
ONI Surveillance abroad
If the watched vehicle (object) is located outside the CR (or away from the T-Mobile Czech Republic network), it is still guarded, the alarm reports are transfered to the central ONI control system and the customer can order the intervention on vehicle.
ONI SURVEILLANCE COMMUNICATION UNIT SET (including GSM + GPS + VF Antenna) – price without VAT14 630, – CZK / price including VAT 20% 17 556, – CZK – price already includes the fee for activating the ONI system.
Installation by vehicle type and extent of involvement from 3000 to CZK 12.000 CZK (Skoda-3.000, VW, Audi-4–5.000, BMW-7.000)
Accessories
set already contains Panic button
set already contains the type of driving Switch – private/ business
Reserve battery 12V / 2,3 Ah – ** 300, – CZK without VAT** / 366, – CZK including 20% VAT
Extra pay for contactless identification (optional) – 990, – CZK without VAT / 1188, – CZK including 20% VAT
Bluetooth module – connecting the navigation system to the unit (optional) – 1.490, – CZK without VAT /1788, – CZK including 20% VAT
Temperature sensor NCL03T – temperature monitoring (for example in the cargo area) – 900, – CZK without VAT / 1.080, – CZK including 20% VAT
Monthly fees pricelist
Monthly fee without VAT 450, – CZK without VAT / 540, – CZK including 20% VAT
monthly fee includes all data transfers outside roaming charges
ONI Surveillance provides these services
Surveillance nonstop 24 / 7 yes
Resistance to jamming communications yes
Radio tracing after theft yes
Sending information about attack via SMS and e-mail yes
Self monitoring of vehicle location and status via the Internet yes